Please take this survey to help improve Timesheet Export.
Timesheet Export is an add-on for Jira that quickly and easily exports logged time from Jira into spreadsheets.
Once you have logged time in spreadsheets, you can use your favourite spreadsheet software to generate reports on any of the exported fields, including per-user or per-project reports. This allows for invoicing clients, reporting, and accounting.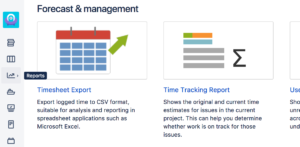 Easy to use
Timesheet Export has been made to be extremely easy to use. You can access it from the Reports page in Jira, or from the sidebar for each project. From there, it only takes one click to export all tracked time into a spreadsheet. If you're just getting started, check out our guide to tracking time in Jira. If you would like to see what's involved with exporting tracked time, take a look at our guide to using Timesheet Export.
Add time tracking to next-gen projects
Timesheet Export adds time tracking to Jira's new next-gen projects, allowing your teams to track their time regardless of which Jira project type they are using. See our guide to tracking time on next-gen projects in Jira.
Compatible with Jira Software & Jira Service Desk
Timesheet Export has been made for both Jira Software and Jira Service Desk, with the appropriate fields automatically being exported based on the type of project being used.
Try it free
You can try Timesheet Export free. Install Timesheet Export from the Atlassian Marketplace.